Disclaimer
Testing Disclaimer
Harry P. Erba, MD, PhD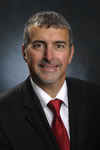 Professor of Medicine
Director, Leukemia Program
Duke University
Durham, North Carolina
---
Dr. Harry Erba received his medical degree and doctorate in biophysics from Stanford University.  He completed an internship and residency in internal medicine, as a well as a fellowship in hematology/oncology at the Brigham and Women's Hospital, Harvard Medical School. He was previously Professor of Internal Medicine at the University of Alabama at Birmingham (UAB), served as Director of the Hematologic Malignancy Program, and was Associate Director for Clinical Research in the UAB Comprehensive Cancer Center. Dr. Erba held the Alfred F. LoBuglio Endowed Chair for Translational Cancer Research from 2013 through 2018. He is currently Professor of Internal Medicine at Duke University, and is a faculty member of the Division of Hematologic Malignancy and Cellular Therapy. In addition, Dr. Erba serves as the Director of the Leukemia Program, as well as Director of Phase I Unit for Hematologic Malignancies. He is a member of the Duke Cancer Institute.
As an active member in the SWOG (formerly, Southwest Oncology Group) Leukemia Committee for over a decade, Dr. Erba worked closely with the leadership of the SWOG Leukemia, Lymphoma, Myeloma and Bone Marrow Transplant Committees. He was appointed Chairman of the SWOG Leukemia Committee, and now serves on the NCI Leukemia Steering Committee. He also served on the National Comprehensive Cancer Network (NCCN) Practice Guidelines Committees for acute myeloid leukemia (AML), chronic myeloid leukemia (CML), myelodysplastic syndromes (MDS), and myeloid growth factors.
Dr. Erba has focused on the assessment of novel therapies in AML, MDS, CML, and other myeloproliferative neoplasms. He has been involved in numerous clinical trials in these hematologic malignancies, led many national trials, and played major roles in the development of several new drugs.
Last modified: July 8, 2020