CE for Nurses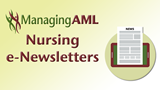 CNE
Pinkal Desai, MD, MPH, Alexander Perl, MD, Daniel A. Pollyea, MD, and Farhad Ravandi, MD
Release Date: April 26, 2019
Expiration Date: April 26, 2020
This activity will address several practice-related issues regarding the management of patients with acute myeloid leukemia. Nurses who provide direct patient care may encounter many different hematologic malignancies throughout their day. Consequently, they may face the challenge of remaining current on treatment and monitoring approaches for acute myeloid leukemia at all stages of the disease, from the newly diagnosed patient to the relapsed/refractory patient. Nurses must also understand key needs of younger and older patients. In this text-based activity, four expert faulty provide the background and insights needed to properly manage patients with AML.

Provided by MediCom Worldwide, Inc.
This activity is supported by educational grants from Agios Pharmaceuticals, Inc., Celgene Corporation, Daiichi Sankyo, Inc., Helsinn Healthcare SA, and Jazz Pharmaceuticals.
Begin